We've opened up this 30-minute training for you!
Finding Balance: Self-care Techniques to Support Educators and Students' Social and Emotional Well-being
Watch Anytime, On-Demand!
Description
Are you looking for ways to incorporate effective daily wellness routines that honor and respect your teacher time and help you find balance? Join Naomi Harm as she shares personal and professional self-care techniques that can be used to support you and your students' social and emotional well-being. You will also walk away with many SEL and gratitude activities and templates to help build a stronger community of compassionate learners in your classroom.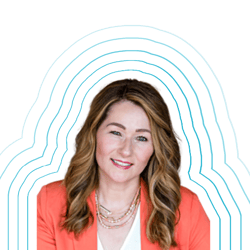 Trainer
Naomi Harm is an EdTech influencer and women in leadership strategist. She has a passion and a drive for instigating STEM innovation into all of her professional learning offerings. Naomi welcomes every opportunity to share her researched-based expertise on brain-based learning instructional approaches, and sensory tactile learning experiences, so as to provide ALL students of every ability access and equity to STEM teaching and learning resources to build their lifelong learning confidence.
Naomi is extremely passionate to provide K12 educators and our #CreativeIntellectualHumans of students the following learning experiences: - Potential STEM careers in coding and robotics, - Global engineering derbies infused with student-centered leadership challenges, - Women in leadership coaching, mentoring and lean-in strategies, - Redesigning classroom learning spaces with our big beautiful brains in mind, - Maximizing creativity, communication, and collaboration with design thinking student choice and voice projects.
Her 20+ years in the edtech teaching and learning space provided her with these leadership opportunities: ISTE Faculty Instructional Coach, Google Certified Innovator, Woman in Leadership Strategist, Coach and Mentor, CS for All Teacher Ambassador, Master LEGO Educator, Makey Makey Ambassador, Book Creator Ambassador, K12 Corporate Strategic Education Manager, National Intel Senior Trainer, EdTech Director for 26 Wisconsin school districts,K and 4/5th grade looping teacher and technology coach, CEO and founder of her own Innovative Educator Consulting company http://www.NaomiHarm.org
She has spoken at over 125 National/International conferences, and her most recent keynotes and featured speaker addresses include just a few of the locations: *Canada Edtech Leadership Summit - Vancouver - British Columbia, *LEGO Education - Denmark, *FETC - Orlando, FL, *Future Ready Conference - Honolulu, Hawaii, *WI SLATE, *SSLA Saskatoon, Canada - *Practical Pedagogies in Toulouse, France - *NCTIES in North Carolina - and *SchoolNet South Africa in Cape Town, Johannesburg, and Bloemfontein.
To continue the learning conversation, feel free to reach Naomi Harm through Twitter: @NaomiHarm or Email: Naomi@NaomiHarm.org or Webpage http://NaomiHarm.org
#TogetherWeAreBetter